Seven Eyes Seven Eyes Six Eyes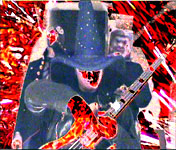 Digital trash style music video for "Seven Eyes Seven Eyes Six Eyes," an uncharacteristically punk but characteristically deranged track from Cementimental's forthcoming album Sad Child No Face.

The video was made by members of Cementimental who are also founder members of Manticore Films and Spite Your Face Productions Ltd, but please note that neither of these esteemed companies will take any responsibility for this haphazard foolishness.

Warning - contains strobing.

movie downloads

(Movie links now fixed, if you were having trouble downloading before it'll work fine now.)

Movie files hosted thanks to The Internet Archive. If you like, you can visit the Seven Eyes' movie page here to post comments or rate the video.

credits






Music:
Sir Concord Discount: Vocals, Drums
Koala Ratpoison: Vocals, Bass
Mistress Poundhit: Guitar
Dr. Age: Tinned noise

Video:
Generally shot/edited/etc by Sir Concord Discount and Dr. Age.
Pyrotechnics by Guy Fawkes.
Strobes, photos, effects abuse, wrestling and typography by Russ.
Exploding heads by Mrs. Columbo.
Super-8 tourism by Cheef Keef.
Other people probably did other things also. I don't remember.

If you'd like to include this video in any screening, compilation, website, etc. then email me for permission.